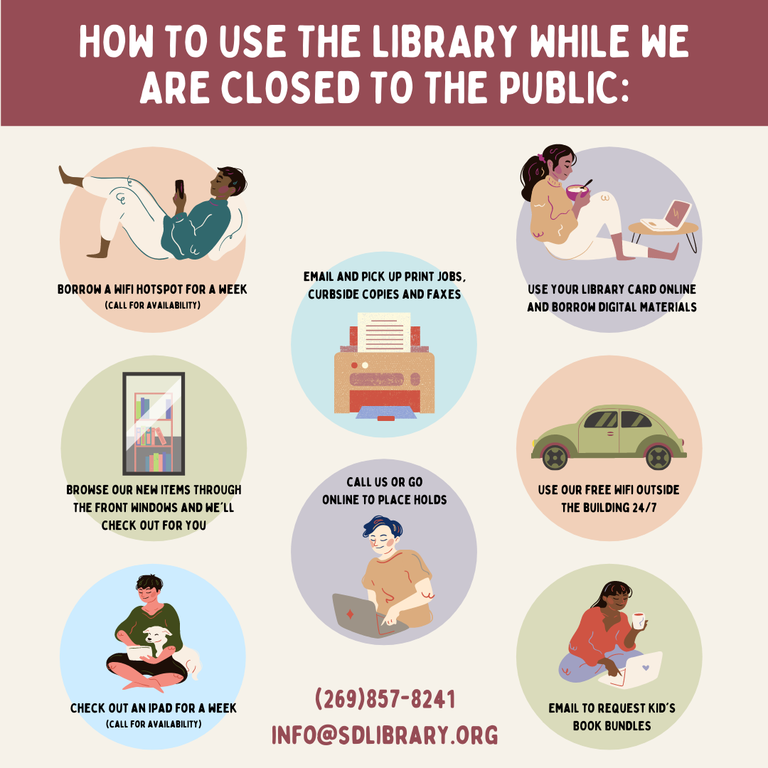 COVID-19 Preparedness and Response Plan
Pursu
ant to Executive Order No. 2020-114
, the 
Saugatuck-Douglas District Library
board of trustees approved a COVID-19 Preparedness and Response Plan on June 4, 2020.
Guidelines for entering the building
If you are sick or are experiencing any COVID-19 related symptoms, DO NOT ENTER.

Curbside pickup will continue. If you would rather place holds online and pickup outside, please continue to do so. 
Patrons must wear a mask or face covering at all times while in the building. Children under 2 and anyone who cannot medically tolerate a face covering are exempt. 
Maintain 6 feet of distance from others while in the building, waiting to enter, or returning materials to the drop box. 
We ask that patrons limit their time and take approximately 
60 minutes
to browse, use computers, and checkout materials. 
We are currently allowing 20 patrons in the building at one time. If the "at capacity" sign is posted on the door, please wait outside until it is taken down.
We will continue to reassess these restrictions and will gradually lift them as soon as we are able to do so.